"Jurenji Persimmon" Picture-Story Show
Picture: Masanao Sakamoto
Sentence: Kazuyuki Kawahara
It was around the time when blue leaves began to grow on a large 130-year-old Jurenji persimmon tree.
Ms.Tsurue, who has blindness in her right eye, a visual acuity in her left eye of 0.01, and a respiratory disability, came to Mr. Kenzo's house, a kilometer and a half away, on a moonlit night road.
"As Mr.Kenzo knows, I smoked from the mine and got sick. I've just started exercising to get my illness recognized as pollution, but please cooperate."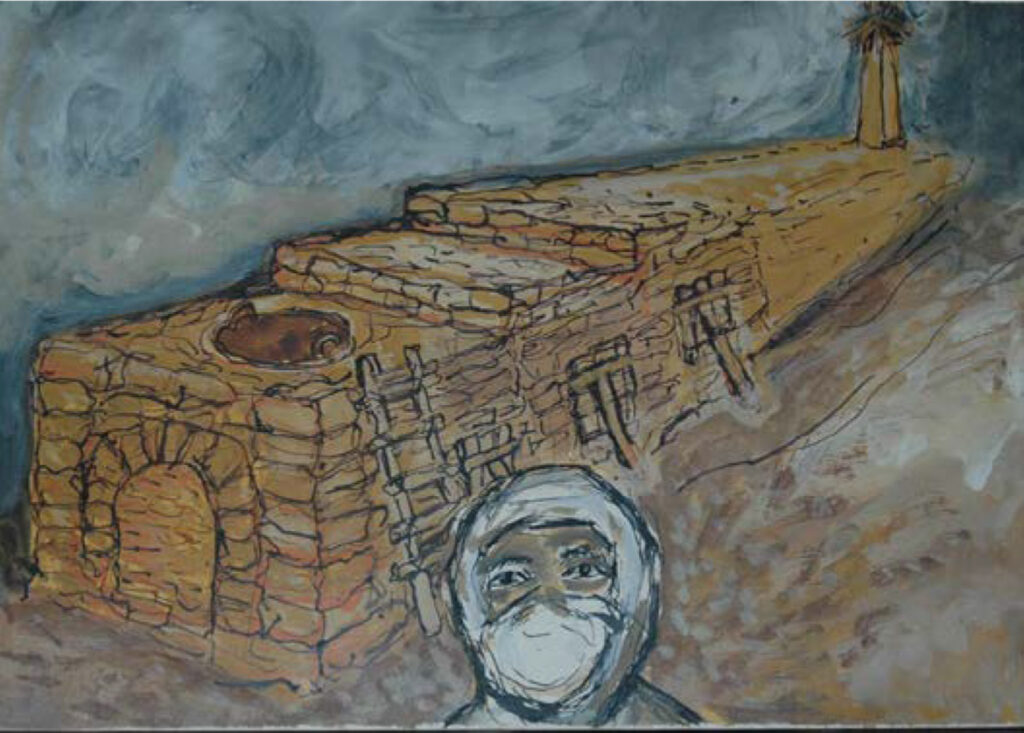 Ms. Tsurue was born in the 10th year of the Taisho era at the tenement house of the Toroku mine.
At that time, smoke that produced a deadly poison called arsenous acid rose in the mine and attacked the tenement house where Ms. Tsurue lived all year round.
Ms. Tsurue, who was hit by poisonous smoke, continued to suffer from systemic illnesses such as eyes, skin and respiratory organs from an early age, and was finally abandoned by the doctor in front of the fifty years old.
"Eye and respiratory illnesses are unlikely to be cured for life."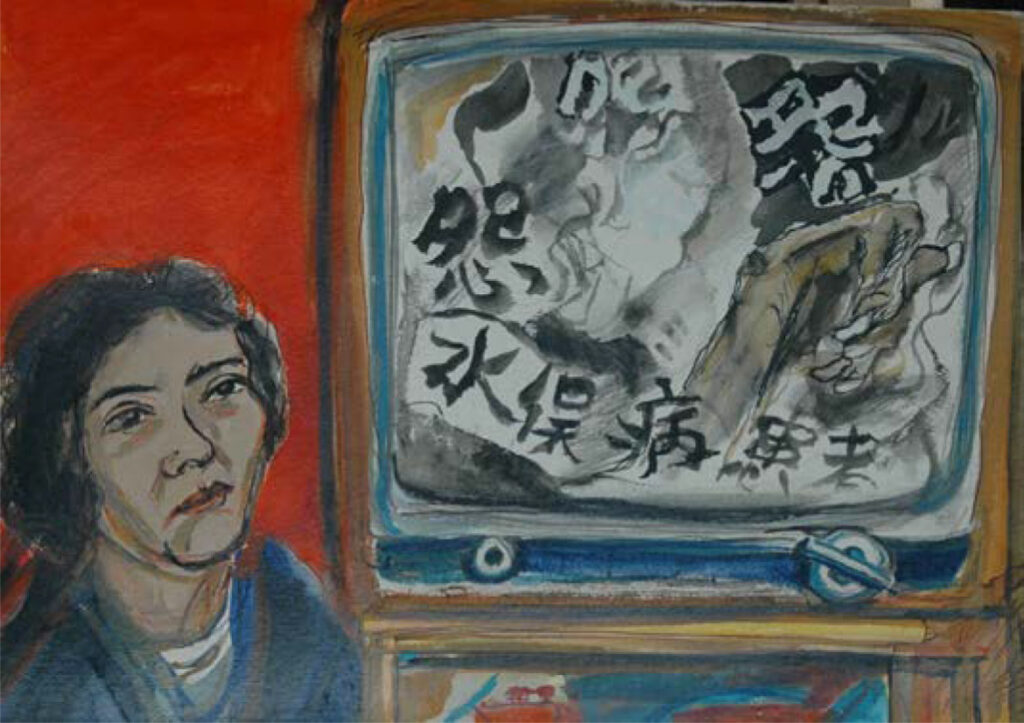 "I want to die"
With the help of her delicate living alone, Ms. Tsurue was completely pessimistic about her future.
At that time, the news that a patient with Minamata disease, Itai-itai disease, and Yokkaichi pollution had filed a lawsuit was carried by radio waves to Toroku, a village in the mountains.
"Yes. I am also a pollution patient."
Ms. Tsurue, who became aware of it, got up with courage and decided to make a pollution certificate by herself and get signatures from all 50 households of Toroku arsenic.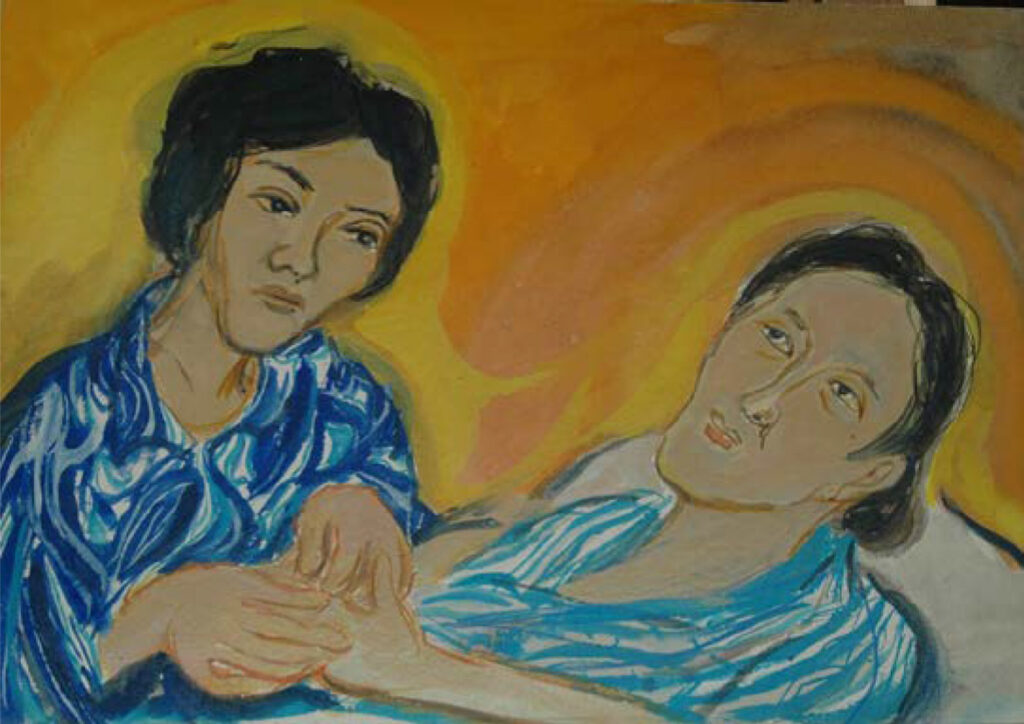 Mr. Kenzo, who heard Ms. Tsurue's story, kindly accepted the signature. Ms. Tsurue was delighted. Before she returned, she was Mr. Kenzo's younger sister, and when she sat down at the bedridden sick Ms. Aya's bedside, she said, "Ms. Aya is also a pollution patient. Let's join the group and do it together."
Ms. Tsurue's words remained in my ears, and Ms. Aya couldn't sleep that night. Her memories from her childhood ran around in her head like a magic lantern.
That was when Ms. Aya had five.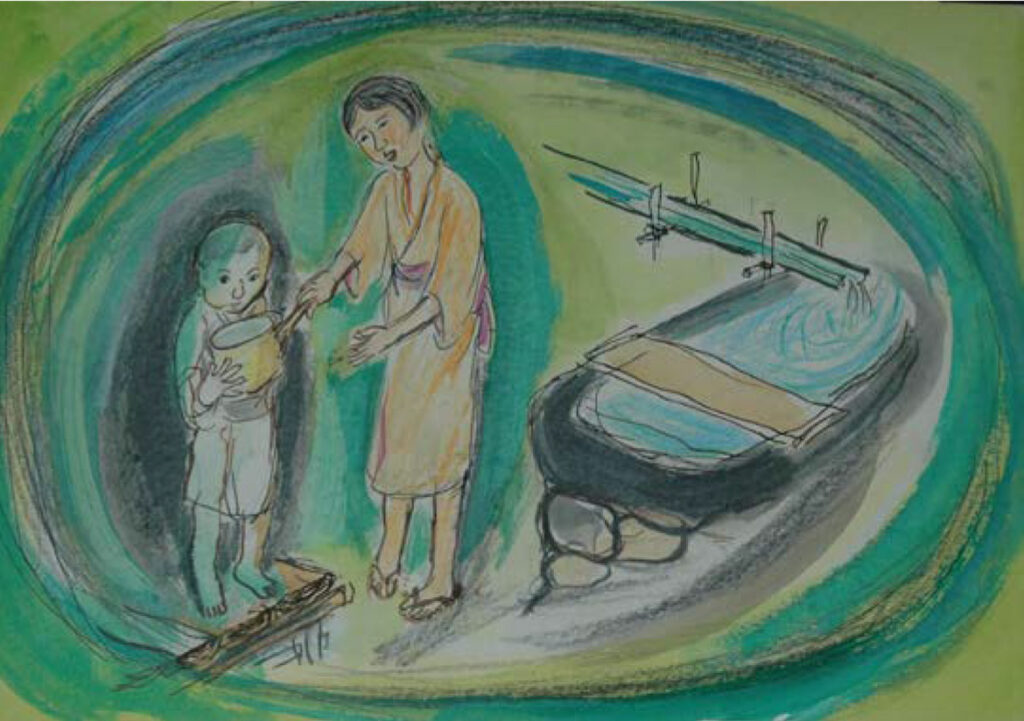 Tokizo, a younger brother three years younger, died of a gastrointestinal illness.
Tokizo was a child who often wanted water. When I thought about it, I was crying because I had a stomachache, which bothered Ms. Aya, a babysitter.
The water that Tokizo was drinking at that time. It was irrigation water drawn from just below the mine. The rice fields that have been drained will rise up and the roots of the rice will rot.
That water must have been mixed with mineral poison. Not knowing that, Ms. Aya's family continued to drink poisonous water for half a century.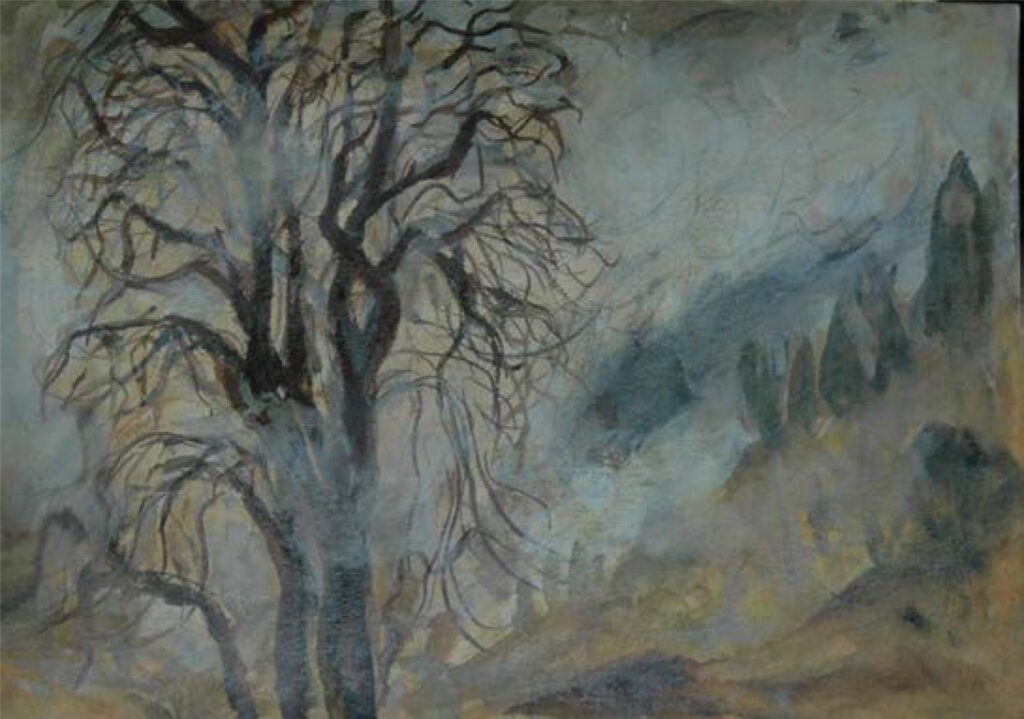 Next to the rice field in Ms. Aya's house, there is a large sweet persimmon tree called Jurenji. When the mine was flourishing, there was a person who said, "Sell the persimmon tree, which has no fruit at all, because it will be used as firewood for the bath."
Ms. Aya's mother refused, saying, "It's because of the smoke from the mine, so if the smoke stops, it will bear fruit again."
Eventually her mother died, but as the word says, when the mine was abolished, the Jurenji persimmons began to bear sweet fruit on their branches again.
Persimmons weren't the only ones that were hit by smoke. Soybeans, shiitake mushrooms, kabosu, bees, etc. were wiped out, and cows and horses died flutteringly.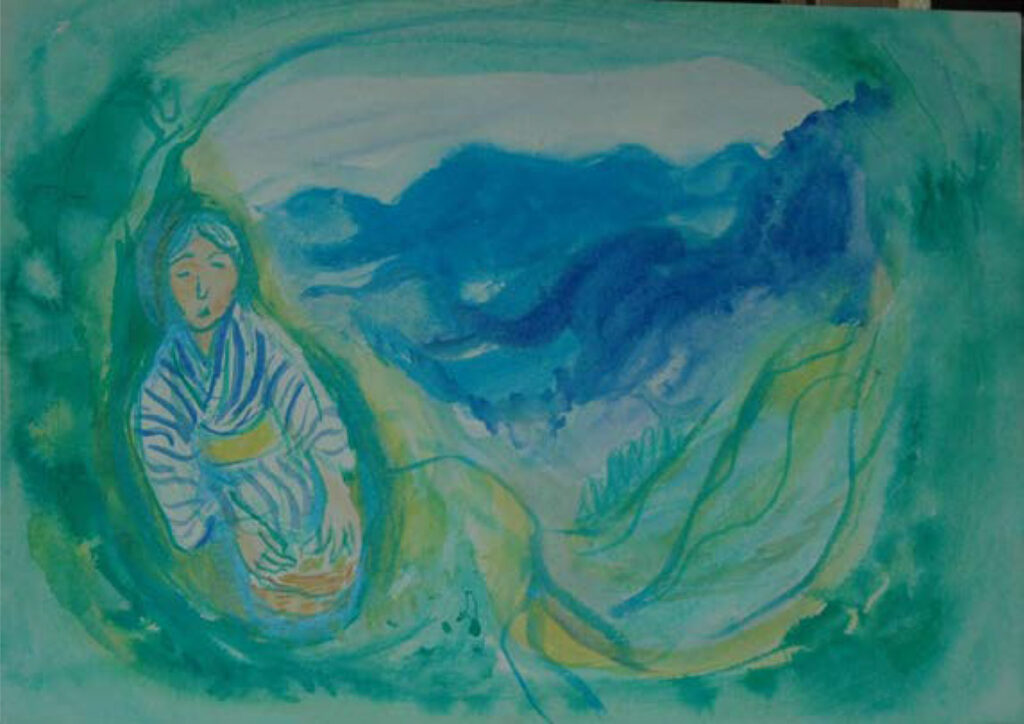 After suffering from a bronchial illness at the age of eight, Ms. Aya suffered from all kinds of illnesses such as gastrointestinal tract, liver, bladder, heart, nose, lungs, nerves, and could not get married. She didn't have the money to see a doctor, and she had herbs on some days.
"This was all due to pollution."
Such conviction was born in Ms. Aya's heart when she heard Ms. Tsurue's story. Still, She was hesitant to start her exercise with Ms. Tsurue.
"If I, who has been bedridden for more than 10 years, joins the group, it will slow down Ms. Tsurue's pace."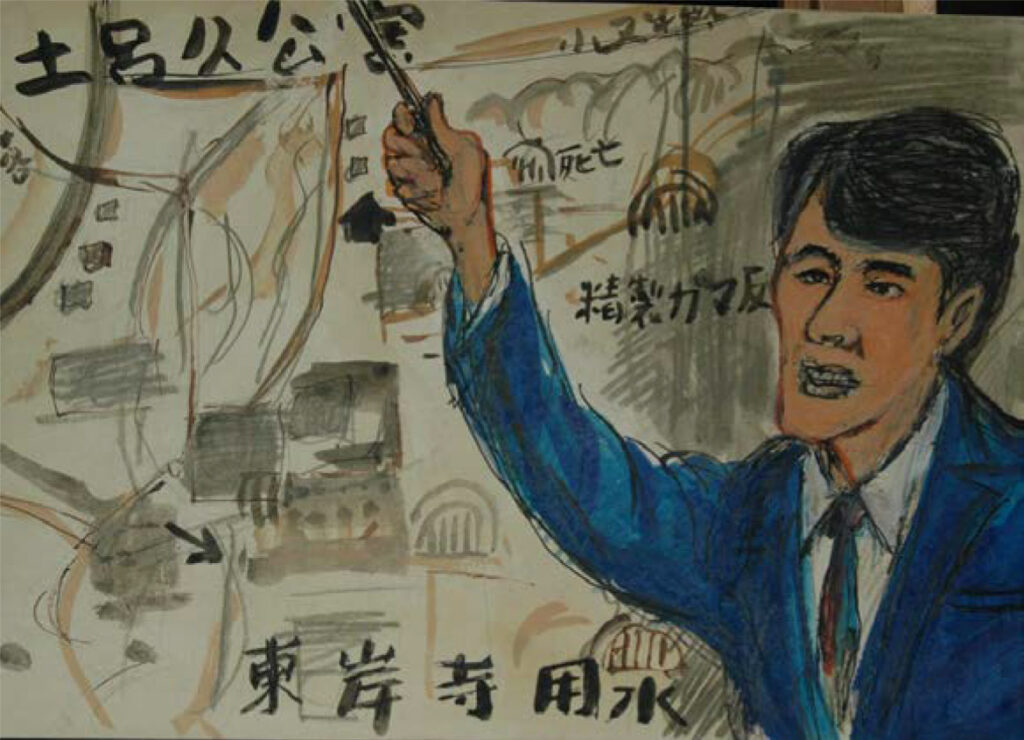 Ms. Tsurue's fellow has been increased to eight people, but the movement is like a toddler baby, did not go he wanted to. When the movement stopped, an unexpected collaborator appeared.
The teachers at Iwato Elementary School set about digging up the buried Toroku arsenic pollution.
"In 50 years, nearly 100 residents died at an average lifespan of 39 years !!"
The shocking findings were announced at the Miyazaki Prefectural Education and Research Meeting.
The media was surprised and made a big report on this news, and the Miyazaki Prefecture Pollution Division was in a hurry and immediately started a health survey of the residents of Toroku.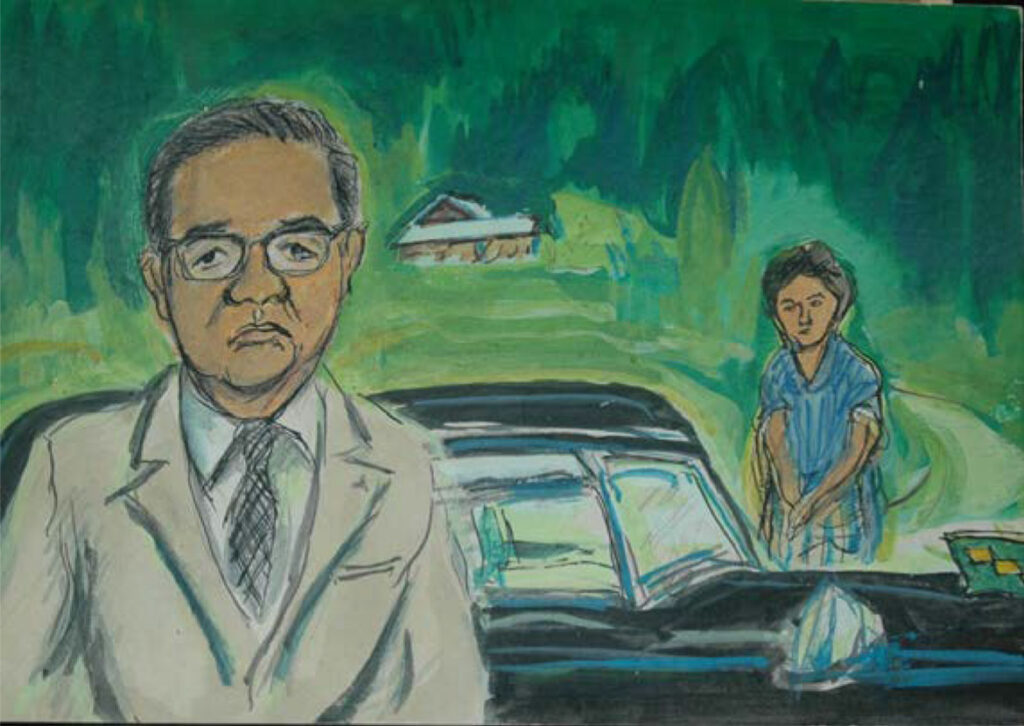 Eight months later, Ms. Tsurue received the long-awaited news. Seven residents, including Ms. Tsurue, have been certified as patients with chronic arsenic poisoning.
The black-painted passenger car on which the Governor of Miyazaki Prefecture was riding climbed the rattling road of Toroku during the peak of cicada buzz. Governor Kuroki, who visited Ms. Tsurue's house, put his hands on his hands and bowed his head deeply.
"Please leave the mediation of compensation with the company to me."
In the eyes of Ms. Tsurue, Governor Kuroki looked like a god
"I was saved by this."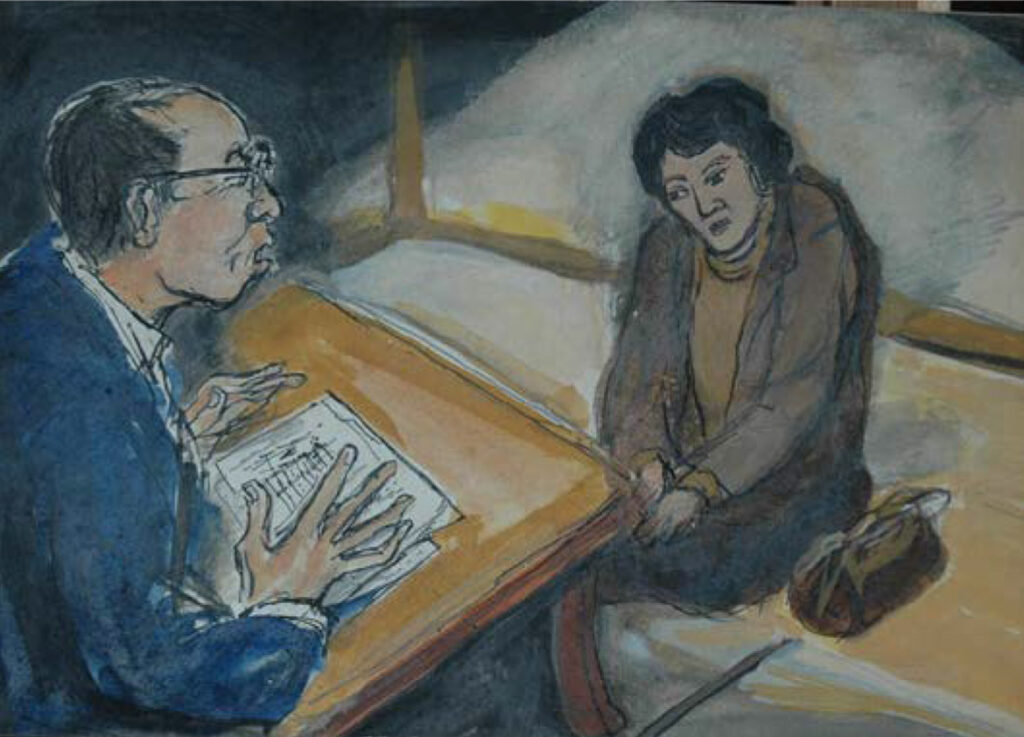 At the end of the year, in a room of the inn, which broke off contact with the outside, mediation by the governor have been made.
Ms. Tsurue, who was relentlessly forced to mediate 3 million yen by a prefecture official,is so low that she keeps shaking her head sideways.
"I've been suffering from eye and respiratory illnesses for fifty years, and I can't convince myself at such a low price."
"As a result of the examination, only the skin condition was found to be affected by arsenic. That's why it's cheap."
A prefecture official said, "Illnesses other than the skin are not pollution," and forced Ms. Tsurue to pay a small amount of compensation.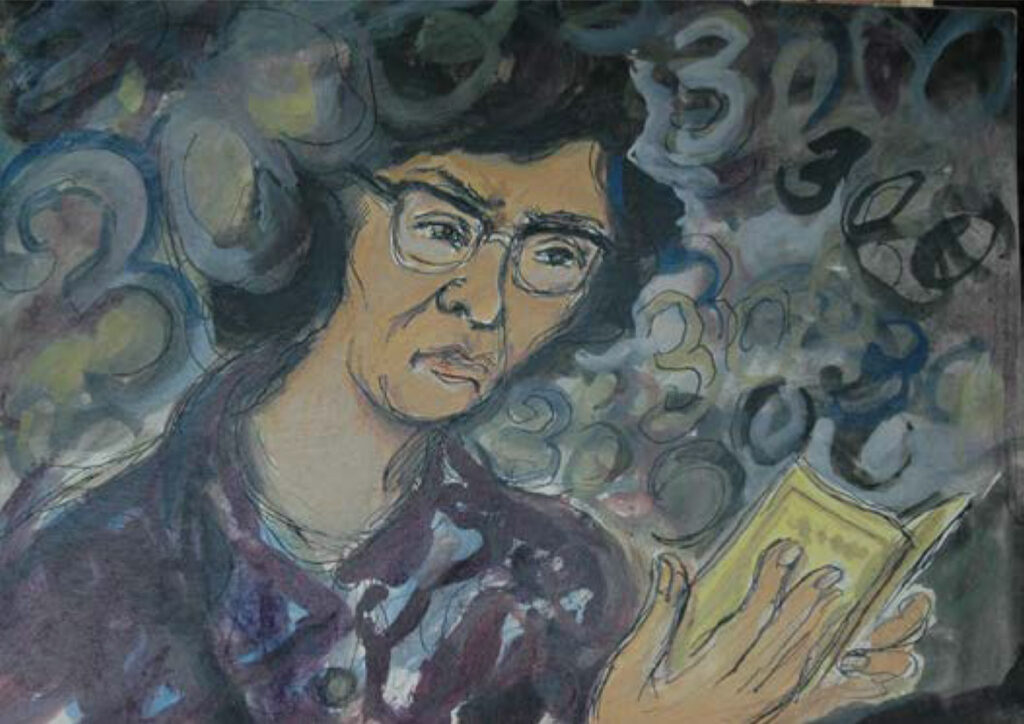 When the governor mediation is completed, Ms. Tsurue was totally at a loss. She has to pay 3 million yen for daily living expenses, hospital expenses, and medical expenses because she has been discontinued from the livelihood protection she had received. How should she live after running out of this money?
"Betrayed by the governor who thought he was a god!"
Ms. Tsurue was pushed down to the bottom of his disappointment.
At that time, Ms. Aya's also had almost lost her hope. This is because Ms.Aya's name was not among the increasing number of certified patients. Dr. Masatake Saito of Iwato Elementary School continued to encourage Aya who was depressed.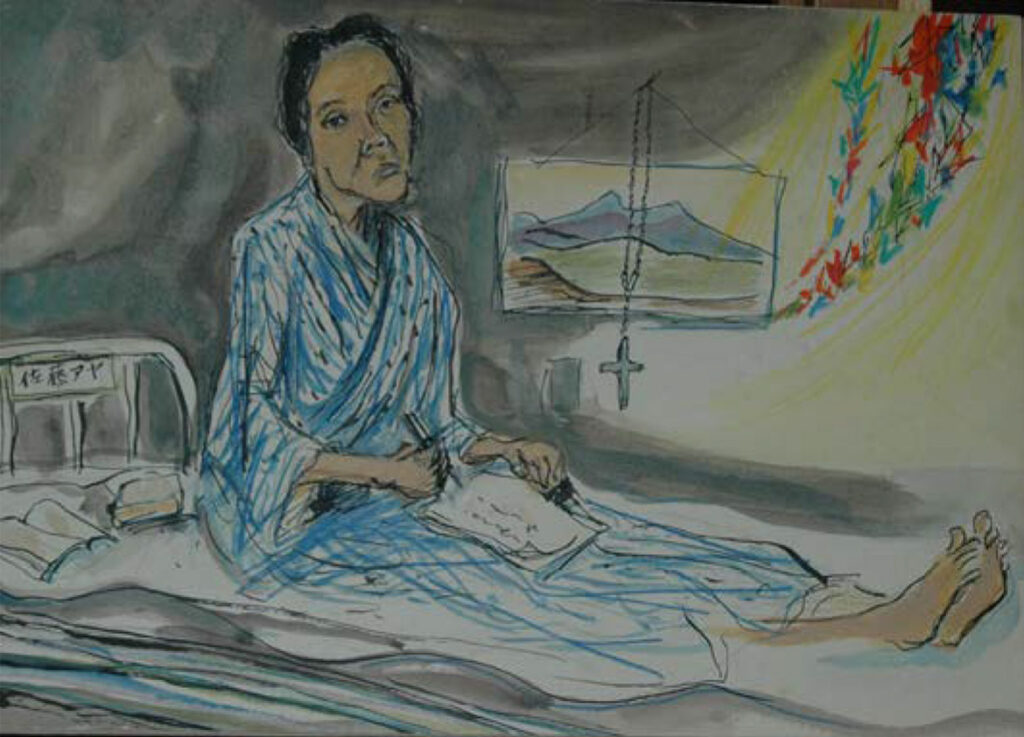 "I'm sure there will be people who will support me. Ms. Aya, let's do our best without being discouraged."
Ms. Aya's condition became severe and she was admitted to Takachiho Municipal Hospital. And she wrote her memoir and began her heartbreaking complaint from her bed.
"Everyone in the country, please take a look. Please listen to the confession of the truth of many years of beds life. Please support. Recognized Please ‥‥‥"
In response to the call of Catholic believer Mr. Raikichi Ikukuma, believers all over the country have begun to send a thousand paper cranes to Ms. Aya. Her circle of support expanded further, and when a group to protect the victims was formed, saying, "We can't abandon the mine poison patient," Ms. Aya was pleased that "a million allies were made."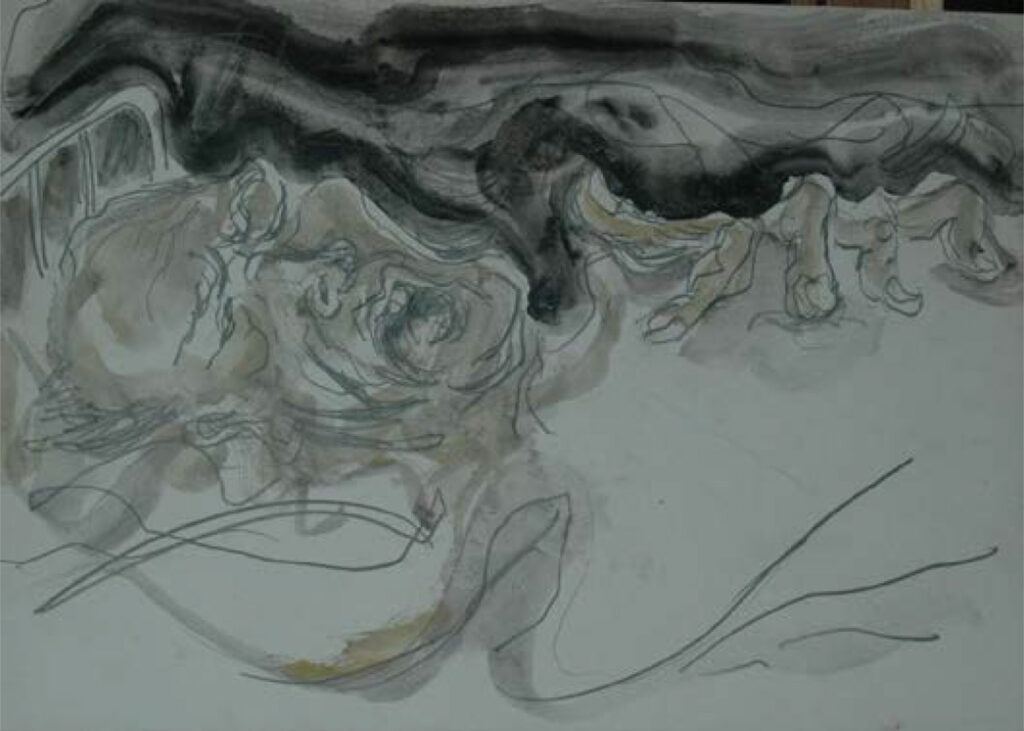 The joy is also fleeting, her brother Mr. Kenzo, who I relied on most, died of lung cancer.
"What should I do if my brother died before me and I have no power to live alone?"
Mr. Kenzo's sons, Shinichi and Tetsuro, took turns caring for and supporting Ms. Aya, who was overwhelmed in despair.
"I can't be a burden to these children forever. I want to be certified as soon as possible so that I can live my treatment and life with peace of mind."
Ms. Aya's wish was urgent.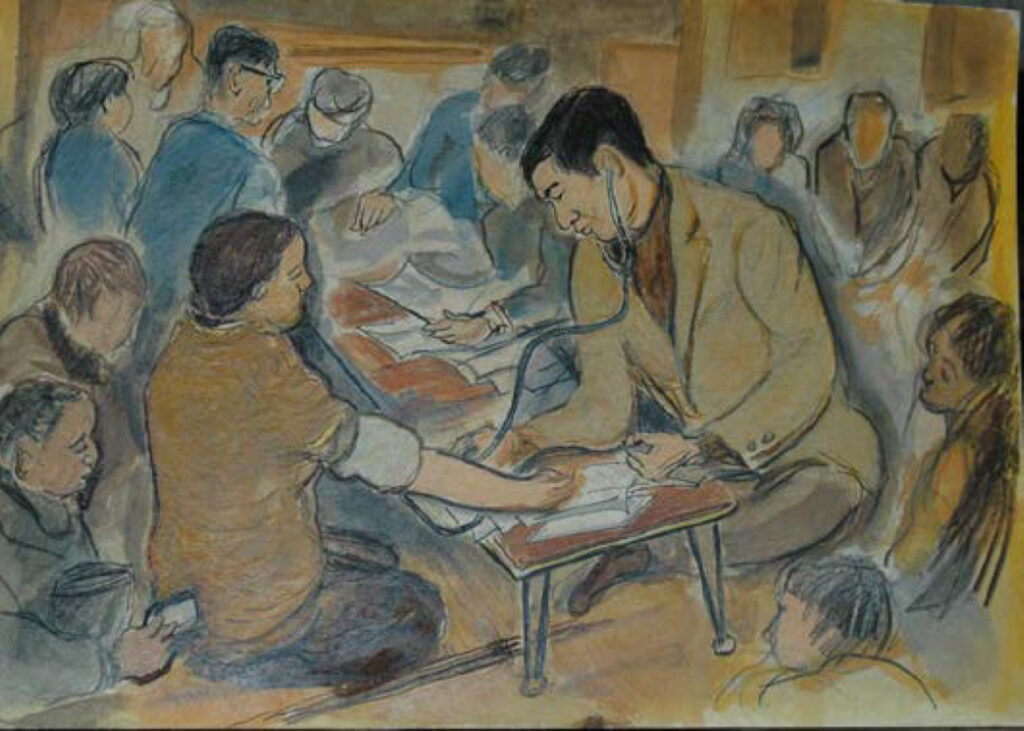 Ms. Tsurue, who became the vice president of the Victims' Association, flew around the country in search of help. First, the Japan Federation of Bar Associations' Pollution Control Committee, and then two groups of self-examination teams, Okayama University and Kumamoto University, were moved by her complaint and entered Toroku.
A survey of legal and medical experts has clearly proved that the mediation that trampled on the patient's wishes was completely unjustified.
They also clearly pointed out that the certification criteria are too narrow.
Ms. Tsurue, who was once despaired, has once again gained courage.
"Let's get the company to redo the compensation!"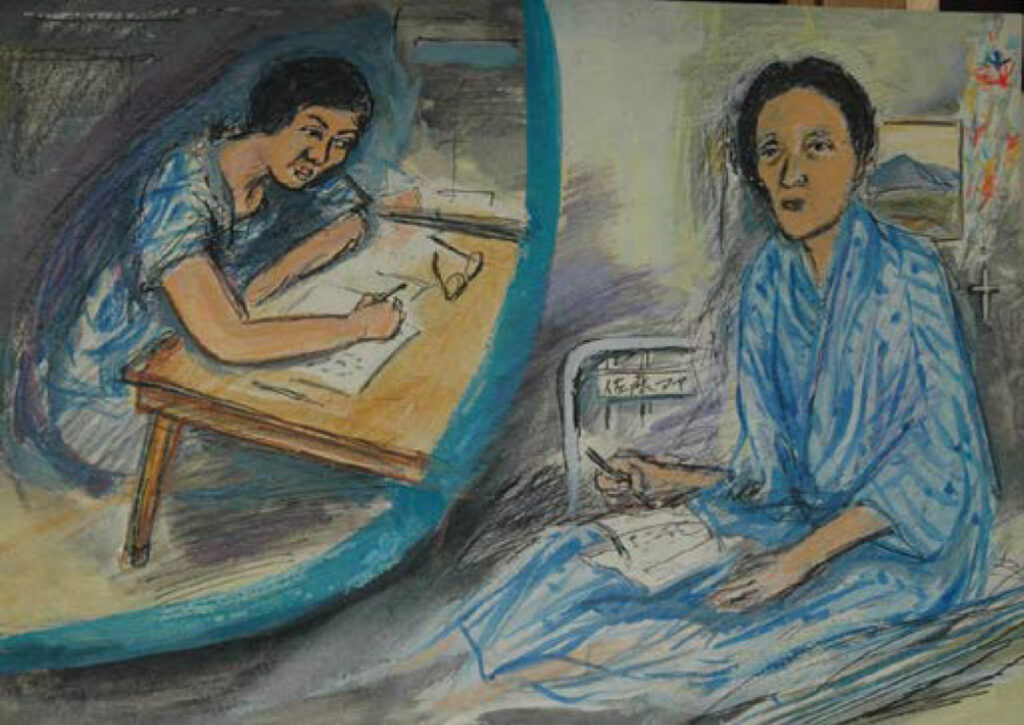 A letter has arrived from Ms. Tsurue to Ms. Aya who is in the hospital.
"Ms. Aya, let's throw away her bearishness and stand up. Justice wins. No matter what the world says, fight until you win. Let's encourage each other and help each other."
At the end of the sentence, a poem written by Ms. Tsurue.
"It's cold snow and rain today, my friend at the hospital, it's cold, don't catch a cold, don't fever"
Ms. Aya's also issued a reply along with a tanka.
"Tears overflow in her white bed with the feelings of a warm friend"
The round-trip letter of friendship brought together the feelings of Ms. Aya, who wishes for certification, and Ms. Tsurue, who seeks re-compensation.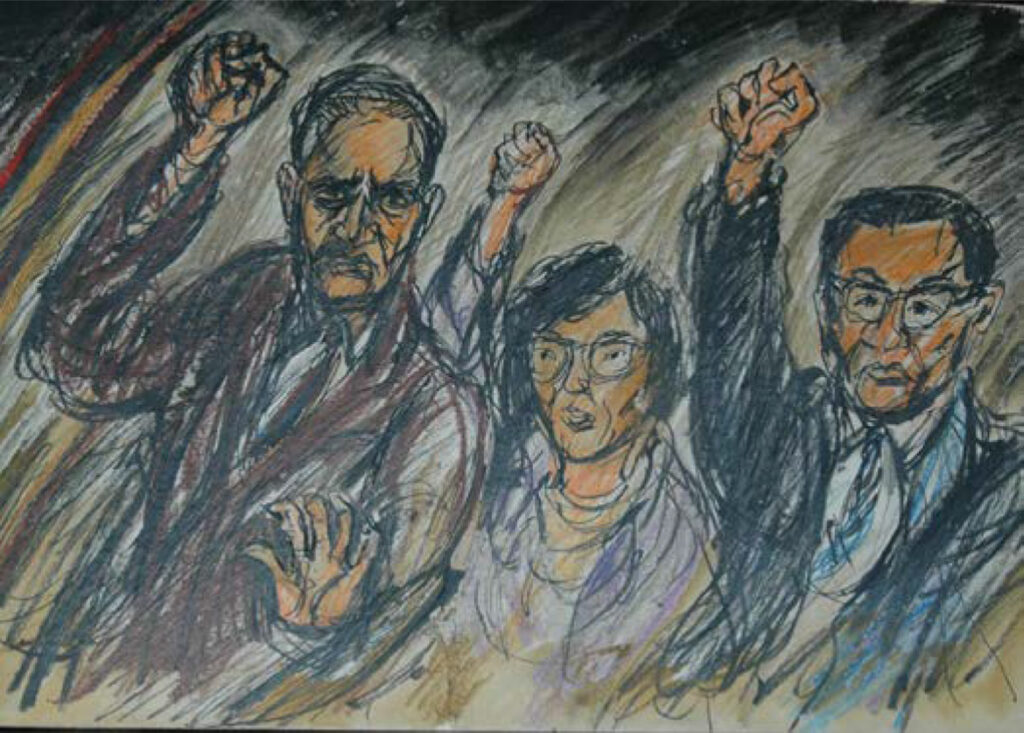 It was the end of the year, two years after Ms. Tsurue was forced to accept an unreasonable request in the governor's mediation.
The day has come when the victims, who have been treated lightly by the government, finally turn to counterattack.
At the third mediation, Mr. Nakaji, Mr. Kazuo, and Ms. Miki refused the low-priced governor's mediation, shouting, "We will refuse the mediation plan for patient truncation."
The only way left for these three people is to win a convincing compensation to the victim by trial.
Her friends paved the way for the trial that Ms. Tsurue had dreamed of. Ms. Tsurue was happy to join one of the plaintiffs.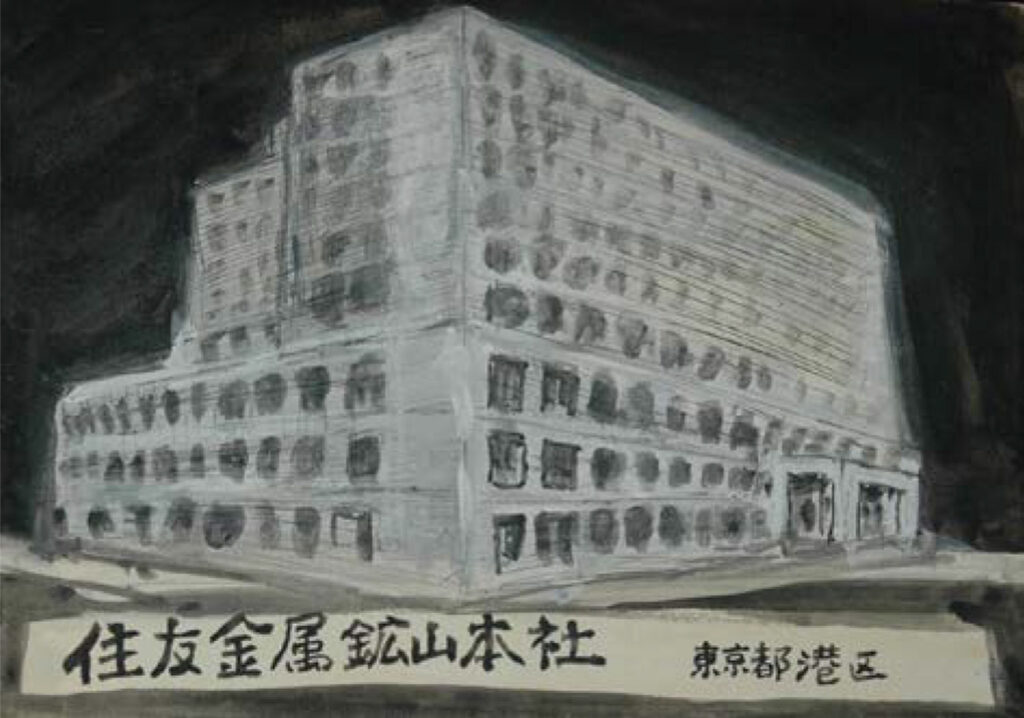 The defendant is Sumitomo Metal Mining.
The day has finally come to uncover the wrongdoing of the perpetrator who were operating under the surface, using the governor's mediation as a means of hiding the administration.
Although this company is one of Japan's leading mining companies, it's not openly at all.
Even though he had the Toroku mine run by a subsidiary and scattered the mine poison, he pretended not to know that he had never operated it when the mine poisoning incident became public.
Such an excuse is not legal at all. The Mining Act clearly stipulates that in mines where mining has occurred, all companies that have had mining rights are jointly responsible for compensation. It is quite natural that Sumitomo Metal Mining, the final mining right holder, is responsible for this.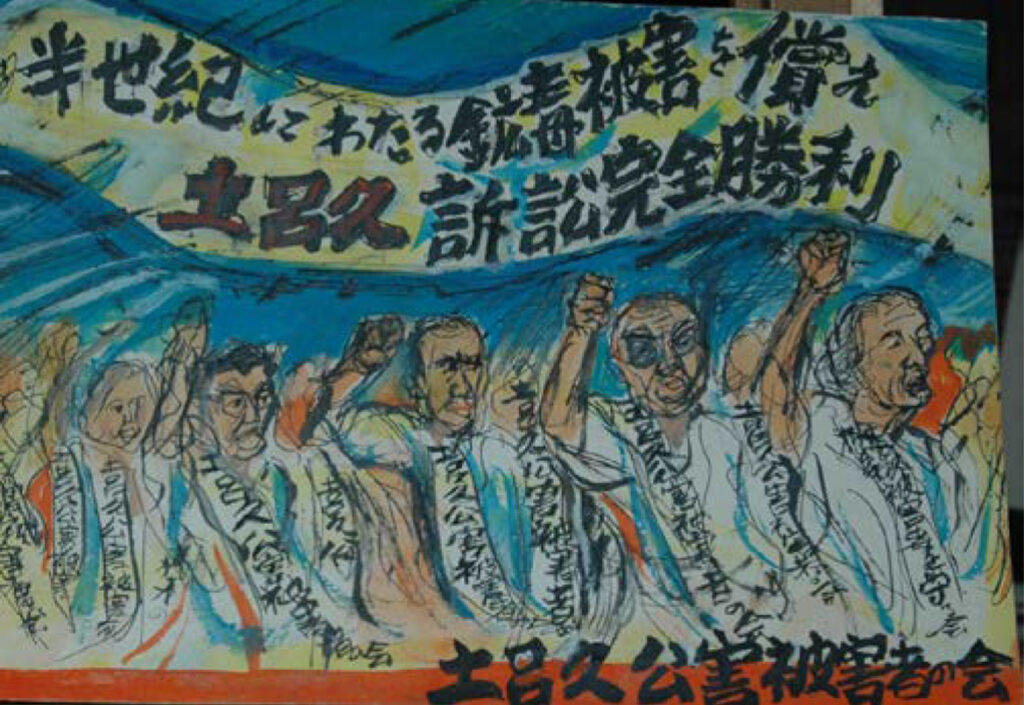 The day of filing has come.
The plaintiffs are Ms. Tsurue and Mr. Hideo who are burning in retaliation for the first mediation, Mr. Nakaji, Mr. Kazuo, Ms. Miki who exploded anger in the third mediation, and Ms. Tone who inherits the wishes of Mr. Katsu who died just before certification.
The six expressed their firm determination, "We will fight until the day when Sumitomo Metal Mining completely compensates for the suffering of mine poisoning for half a century."
In order to support the trial, a proceedings joint battle meeting was created centered on Miyazaki Prefecture Labor Review. Thanks to the Joint Fighting Conference and Catholic assistance, the patient was able to proceed with the proceedings without fear of legal costs.
The first oral argument was held around the time when the Jurenji persimmons had blue leaves.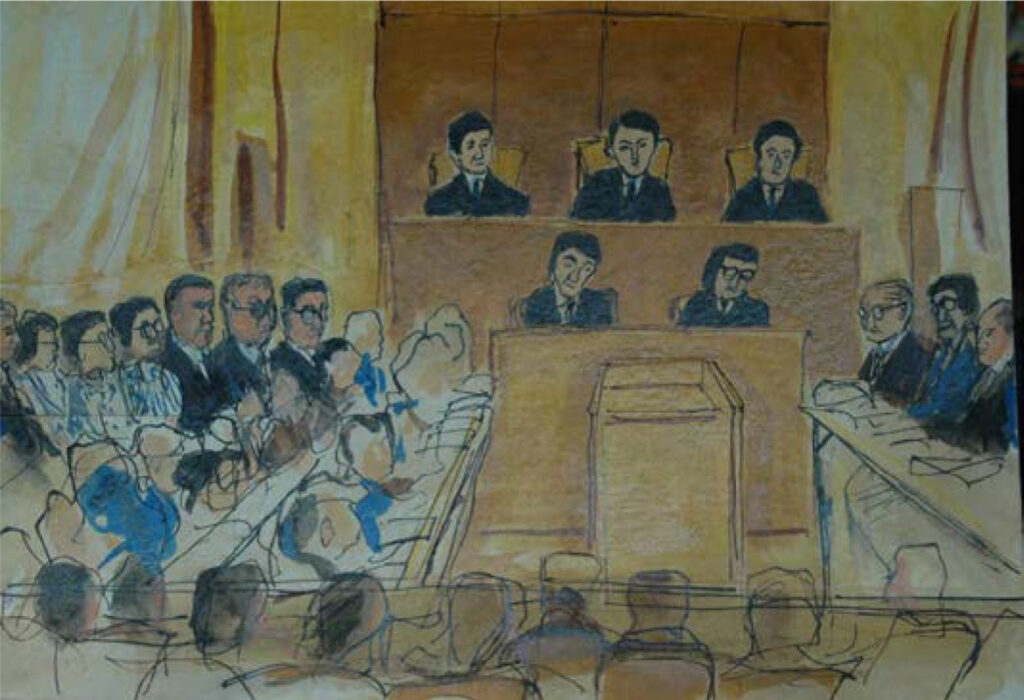 On behalf of the plaintiffs, Ms. Tsurue said, "Judge, we have the right to live even if we are told that there is no prospect of a cure. In addition, I will live." Her voice was trembling.
Five years have passed since Ms. Tsurue signed the signature by herself, and the long-sought trial has finally begun.
Around that time, the light of hope came into Ms. Aya, who was sick. Her nephew Mr. Tetsuro was out of breath and rushed into Ms. Aya's hospital room, saying, "Ms. Aya, I've received a notification of certification!"
That joy quickly turned into deep distress.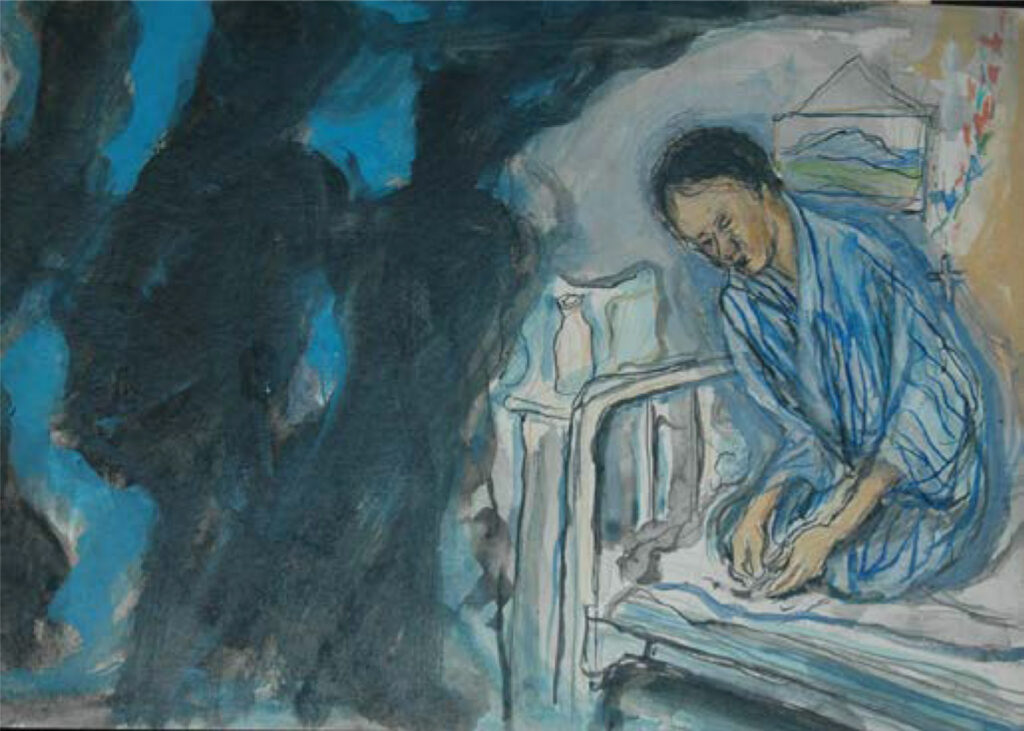 There was a movement among the patients who were certified together to ask the governor for mediation, and Ms. Aya was also strongly pressured by her relatives to join the mediation. The guardian association, which has been kind and caring for her, is against the placement of the governor, who has obscured corporate responsibility. Ms. Aya, who was at a loss, was immediately forced to make a decision by the representative of the mediation group, and was forced to reply, "Please in addition to the mediation."
Ms. Aya's chest hurts. Her body quivered.
"I'm sorry for the protection party."
In the fall of that year, when the mediation was carried out, the Jurenji persimmons produced almost no fruit.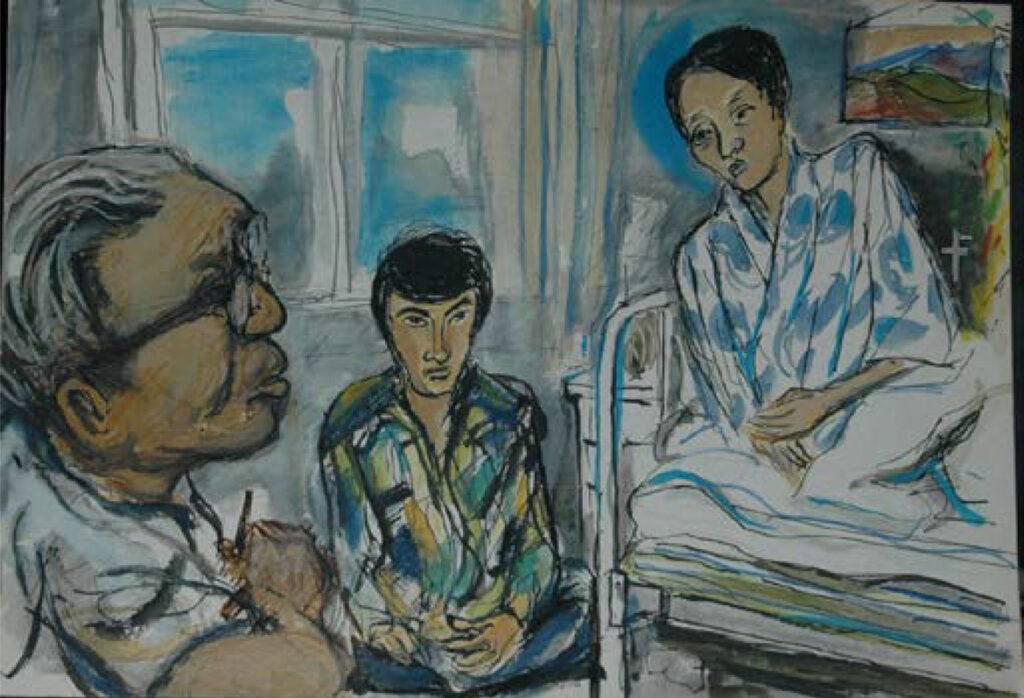 Ms. Aya received 4 million yen in the mediation. It was less than one-fifth of the amount Aya requested in return for a life of fighting illness.
I received compensation for half a century of resentment, but it's sad to think that it's the price of life.
The expectations he had for Governor Kuroki were shattered, and Ms. Aya was at a loss.
At that time, Mr. Masaru Ochiai, the chairman of the guardian association, came to visit us and asked, "Why don't Ms. Aya join the trial?"
Ms. Aya's eyes shined in those words.
Her nephew Mr. Shinichi, who came to the nursery, also said, "If Ms. Aya says she'll do it, I'll support her forever."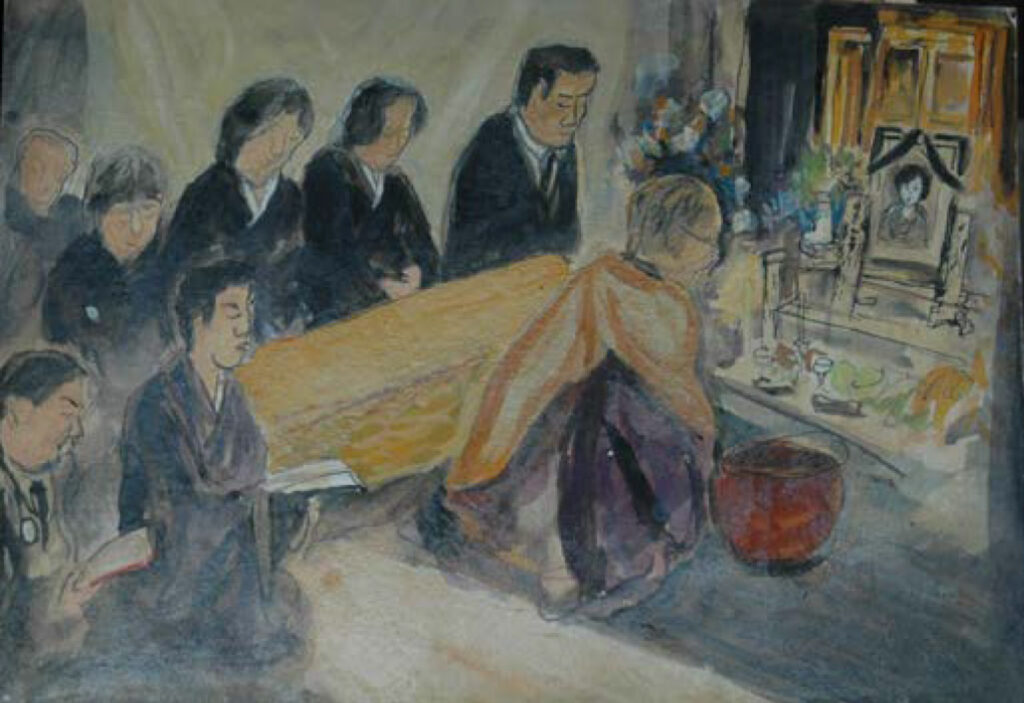 When Ms. Aya was determined to file a complaint, Ms. Tsurue was admitted to a municipal hospital. Her respiratory symptoms are getting worse.
Ms. Tsurue visited the hospital Ms. Aya's room, the day was continued each other encouragement to each other. Eventually, her visits decreased, and Ms. Tsurue, who was almost blind, was taken to Nobeoka's eldest daughter.
When can I go to the paradise of Amitabha if I sleep forever without pain?
Ms. Tsurue passed away, leaving behind a song wishing for a rebirth in paradise. She couldn't see the end of the movement he started.
In the valley of Toroku, where the funeral was held, the signs of autumn were quietly approaching.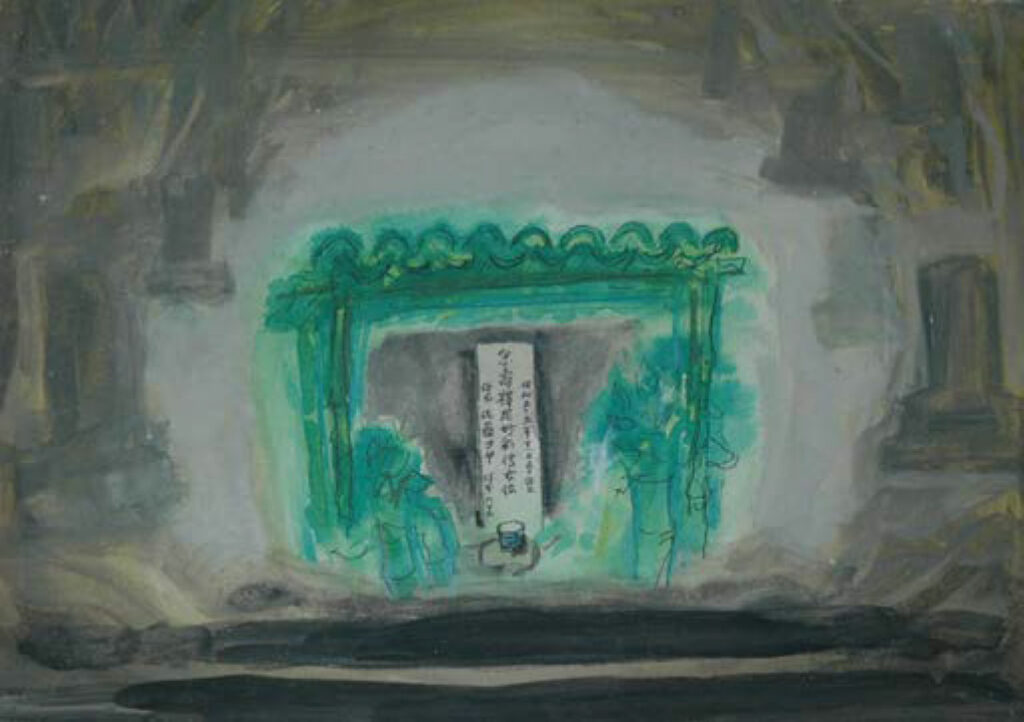 Ms. Aya, who lost the freedom of both hands, continued her fight against illness, using only the victory judgment as a purpose of life.
The trial took a long, long time.
Every time a supporter who came to visit her encouraged her to say, "Next year will be the decision," Aya laughed lonely and said, "When next year may come."
While Ms. Aya's life was alive, the day of the judgment did not finally come.
The energy that she had been squeezing "at least until I heard the judgment" diminished, and she died.
Twenty-three plaintiff patients. Of these, 14 died without waiting for the date of the decision.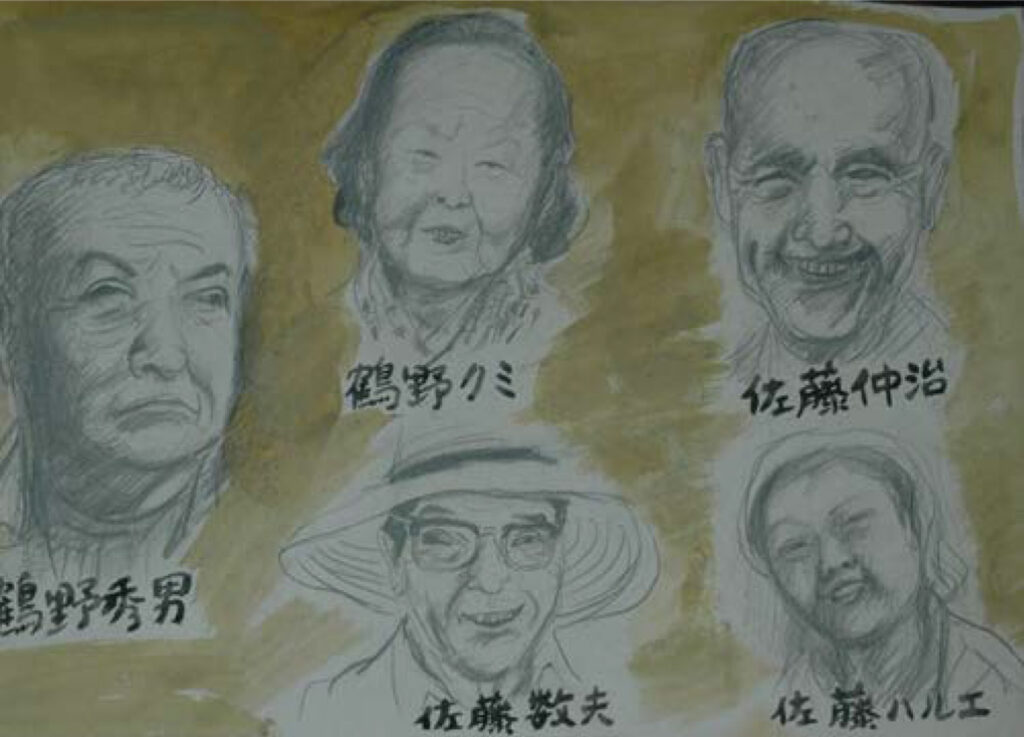 Mr. Kazuo, who suffered from laryngeal cancer, died as if he was suffering from living hell, screaming, "Smash your head."
Mr. Nakaji, who had lung cancer, died unfortunately, leaving behind saying, "I'm asking for a trial."
Ms. Harue, who has bladder cancer, died without fulfilling her wish, "If you win the trial, you want to treat yourself in a hot spring slowly."
Mr. Hideo's cause of death is ureteral cancer.
Her mother, Ms. Kumi, used to say, "It's my role to tell Hideo of afterlife about the results of the trial," but she died of cancer all over her body.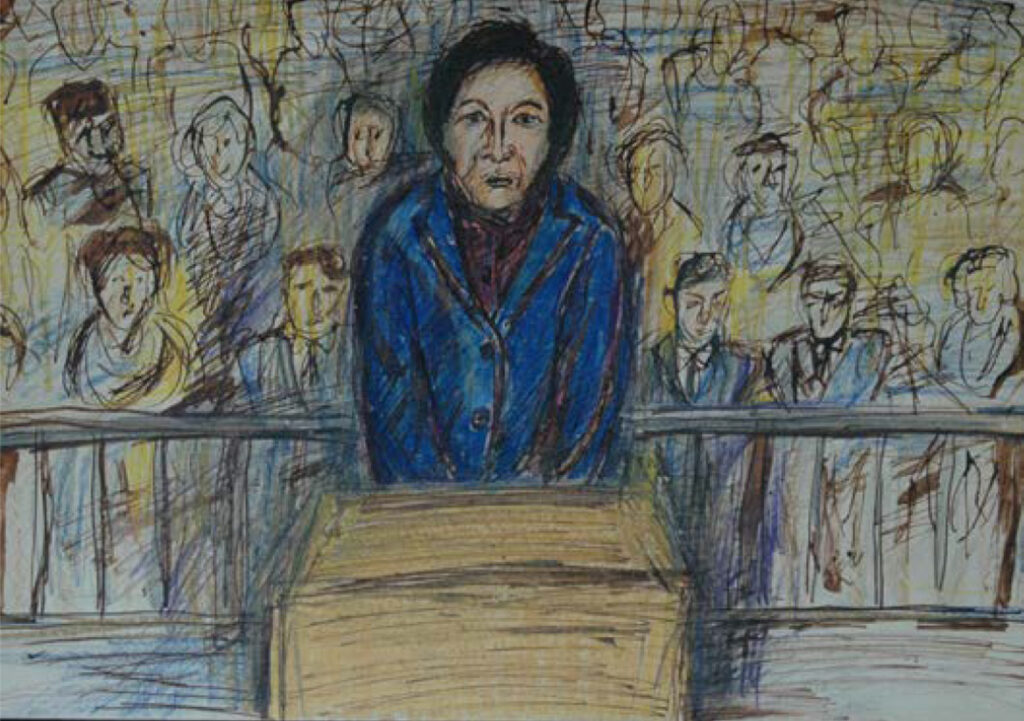 It took 7 years and 2 months from the filing, and the day of the trial finally came.
On behalf of the plaintiffs, Ms. Tone, Ms. Miki, and Mr. Hatsune, who are called "Women's Triumvirate", took the final complaint.
"Have you ever had a pollution trial in which half of the plaintiffs died in the middle of the trial? Have you ever had a tragic pollution incident in which half of the causes of death were cancer?
This is all the responsibility of Sumitomo Metal Mining, a defendant who has set up unnecessary witnesses one after another, deliberately prolonging the trial and causing suffering to patients."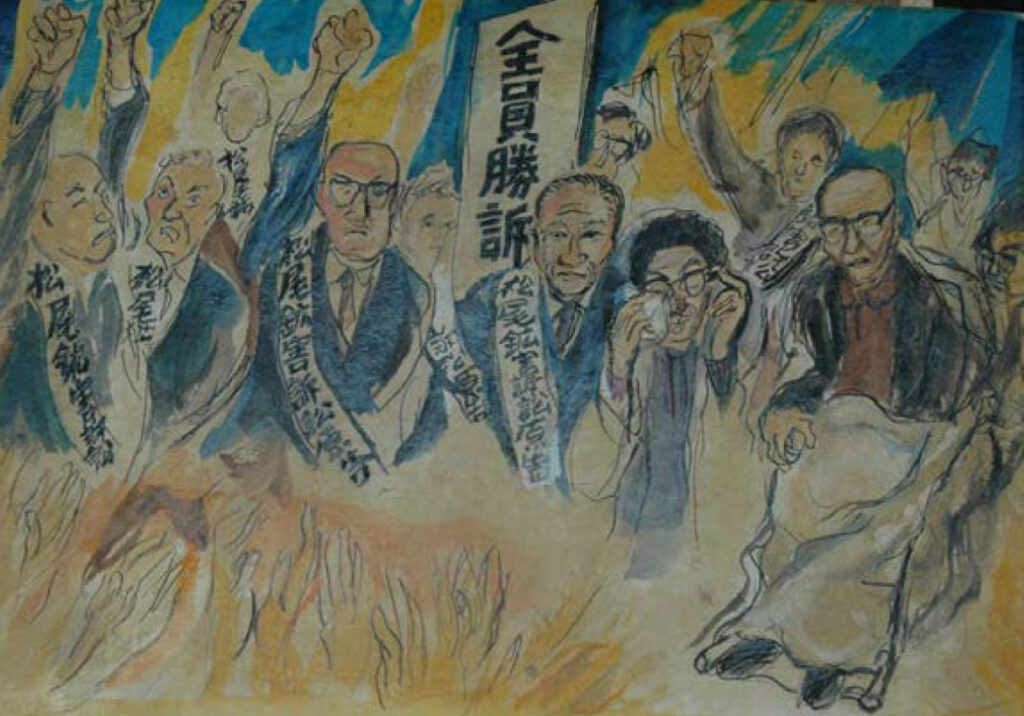 The Matsuo mine poisoning proceeding, which was tried at the same time under the same presiding judge, was sentenced to a complete victory for the patient. Matsuo's patient went to Tokyo immediately and was able to negotiate directly with the defendant, Japan Mining, and conclude a complete victory agreement.
With the slogan "Continue to Matsuo!", Toroku's Victims' Association is preparing for a trial.
Ms. Tsurue, Ms. Aya, Mr. Kazuo, Mr. Nakaji, Mr. Hideo, Ms. Harue, Ms. Kumi, Mr. Katsu, Mr. Kenzo, Mr. Itsuki, Mr. Jinichi, Mr. Toshiyasu, Mr. Masaki, Mr. Takao,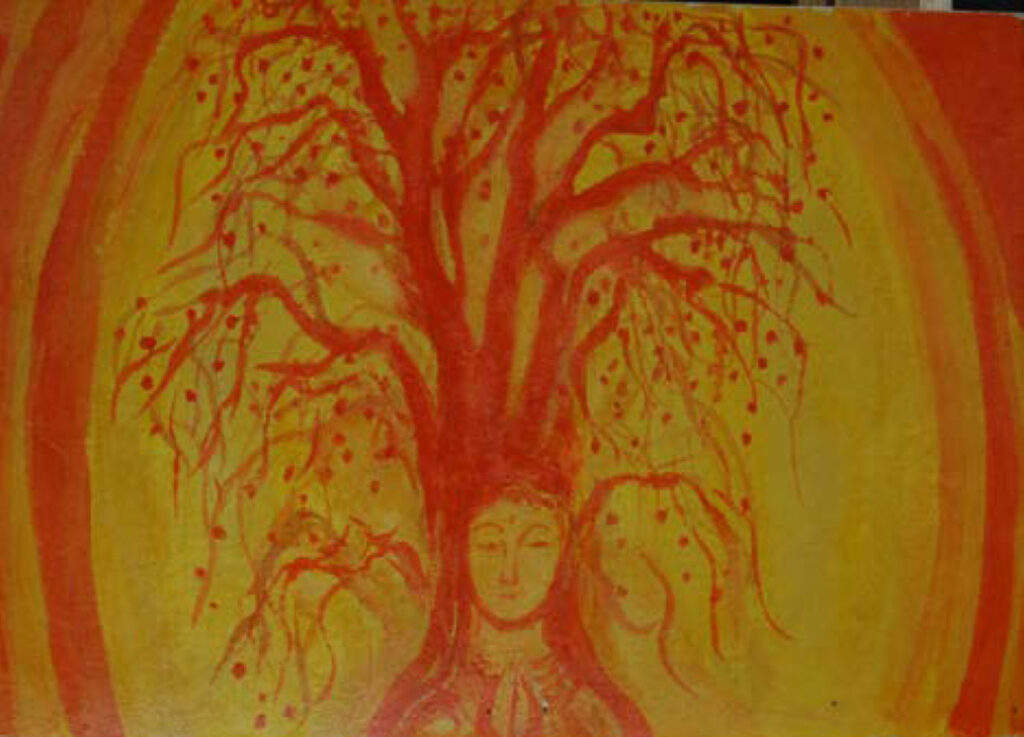 Friends who died unfortunately. In order to fulfill that wish, the big tree of Jurenji, like the arm of Thousand-armed Avalokiteshvara, fills the branches of the tree spread in all directions with abundant persimmon fruits.
The decision was in the spring of 1984. The presiding judge gave the content to fully acknowledge the patient's allegations.
However, due to the appeal of the defendant's company, the trial was even longer and was settled by the Supreme Court in 1990. Ms. Tsurue's grave is engraved with the words that the court said, "Even if you are told that there is no prospect of a cure, you have the right to live. Also, I will live."
(The End)
Reference: Aya Sato, "As long as life"
Tsurue Sato's manuscript collection "I want to live"

Mr. Masanao Sakamoto will be active as a junior high school art teacher when he returns from the two wars.
Mr. Kazuyuki Kawahara's "Jurenji Persimmon" was produced by a picture-story show.
With the advice of Mr. Jun Ui, we made a picture-story show so that we can convey it even in places where there is no electricity.
Currently, the picture-story show "Jurenji Persimmon" is owned by Ms. Mariko Sato, who is a storyteller in Toroku.
What we pass on to the next generation, what we do not forget, and our thoughts have been passed down.
Asia Arsenic Network, a specified non-profit organization|Picture-Story Show "Jurenji Persimmon"
Toroku Arsenic Museum|Toroku Library
Wikipedia|Mr. Jun Ui


A picture-story show of "Jurenji Persimmon" was performed in Thailand on September 22, 1992.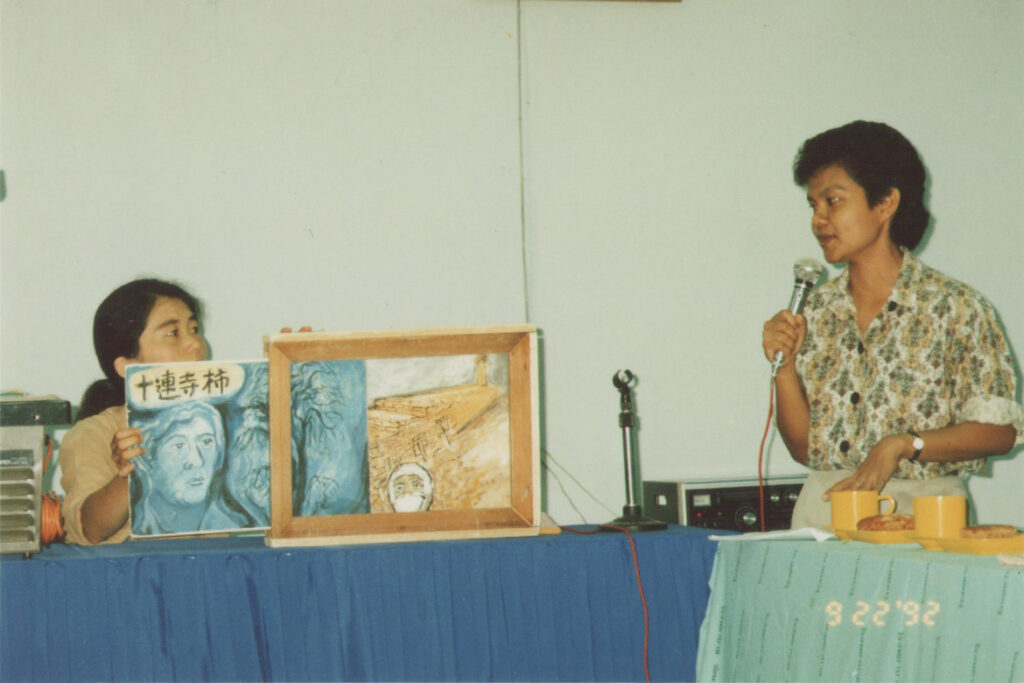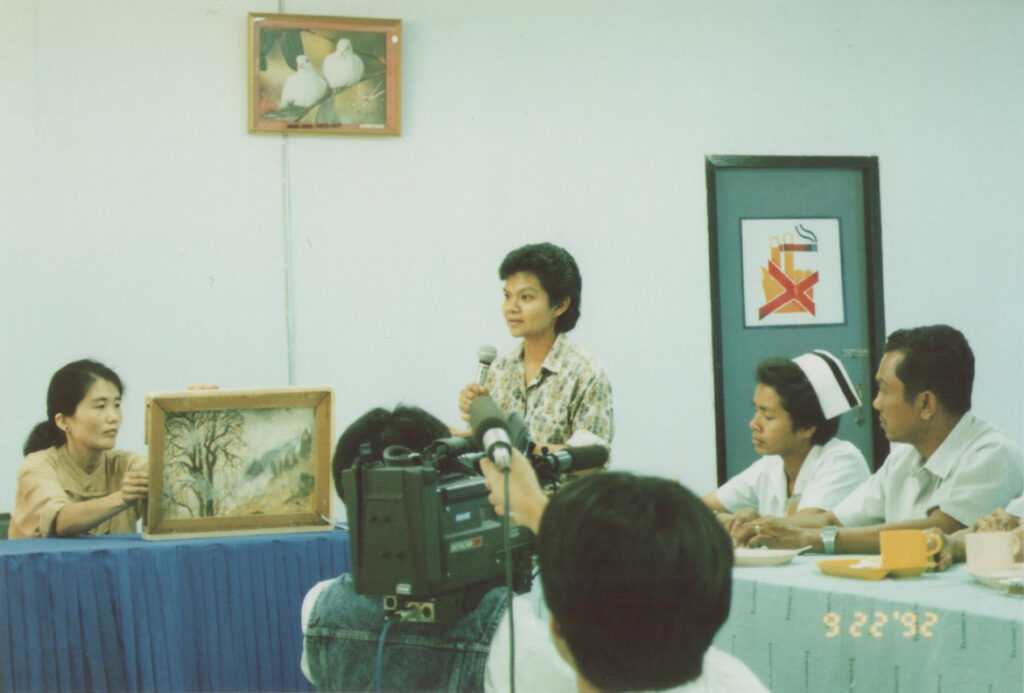 In the fall of 2020, a picture-story show of "Jurenji Persimmon" was performed for students of Miyazaki Prefectural Gokase Secondary School.